UrbanHeatATL T-Shirt Contest
Submit your original design for the chance to win $500 dollars.
Deadline: February 10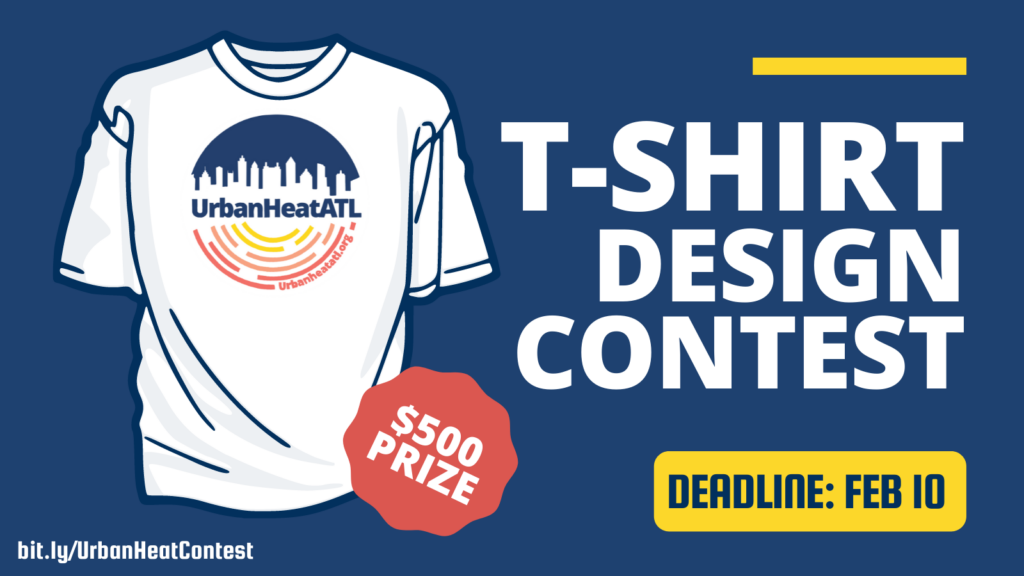 UrbanHeatATL is hosting a T-Shirt design contest for it's first-ever volunteer t-shirts. We welcome the Atlanta community to submit your original designs. Designs should capture the nature of our work: mapping and understanding urban heat islands in order to create a more equitable, resilient, Atlanta. Designs will be assessed based on if they were printed on the front of t-shirts unless otherwise specified.
1. Submit your design via this Google Form by February 10th
2. Finalists will notified of their selection by February 14. These designs will be uploaded to the @urbanheatatl Instagram account for voting.
3. Open voting through Instagram likes will be tallied from February 14 – March 7
4. Winner announced March 15
The contest is open to all members of the Atlanta community. Limit one submission per individual. Submissions must be made by February 10th at 11:59pm to be eligible. Winner must be able to provide a high-resolution file of the design. While Instagram votes will be counted as the "popular vote", and will be given considerable weight, UrbanHeatATL reserves the right to select the final winning entry.
For questions or concerns, contact Selena Perrin Langner at sperrin6@gatech.edu